Yesterday we took a closer look at "Hot Tow Truck Girl", AKA Danielle Bognanno, AKA the chick who definitely just ripped off a bunch of strangers for $800+ in "bail money" for the bail her boyfriend doesn't have. As of now, she refuses to address any of the allegations, hasn't refunded a dime despite proof positive that Abrams has no bail, but had time to go to some liberal protest with "Auditing America", where even the protesters didn't want them around.

You know you're awful when even a group of full-grown adults who spend their weekday afternoon chanting in outrage over a judge upholding law and order don't want you around.
To paraphrase the whole video:
"These guys are making sure our people don't get hit by cars, can you leave them alone? They haven't done anything to you." – Woman with too much free time crying about a judge doing his job
"LOL They're the only cops around right now we can harass for views on YouTube so my lady friend can buy us more drugs when the stolen donations dry up." – Anselmo the police-hating pussylips
So today, we have a new contestant. Anselmo Enrique Morales-Torres, step right up!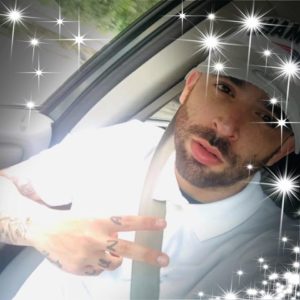 Anselmo, aka "Enrique" is a familiar face. You may or may not remember him from that time he and fellow "auditor" creepy Joe Hart harassed a domestic violence victim in a police station lobby and then cried like little mewling babies when they were promptly arrested.
Anselmo made this face:
So we're off to a rough start for him.
But at least he's not a career criminal and violent felon like Josh Abrams, right? I mean sure, he's willingly associating and covering for the dizzy clam who took thousands of dollars from strangers on the internet, for bail that doesn't exist. Sure, she won't answer anyone's questions about where the money went, but she'll go live with you. And sure, was openly associating with Josh Abrams up until right now, when he's suddenly claiming to not know him in videos,
Likely story. We all know Abrams has been your Fluffer for months now, you can't walk yourself back from that.
There's more smelly cunts there than an amateur Pornhub lesbian orgy.
But at least he's not a violent danger to society, right?
Wrong.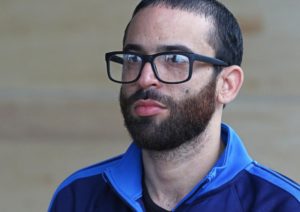 Don't let the effeminate demeanor and Buddy Holly glasses fool you. This guy is bad news.
We already knew that he has a litany of misdemeanor charges related to his "activism" in Rhode Island. But do you know about his time in Florida? I do!
You know, when from 2007-2012 he spent his time on wholesome, noble activities like, felony grand theft,
Kidnapping, domestic violence, and attempted sexual battery,
And false imprisonment with yet another domestic violence charge, because apparently this whining, worthless scrotum sucker really likes to beat up women.
How's your mom, Anselmo? Oh wait….nevermind. You fled Florida to avoid paying restitution. We're obviously thrilled to have you up here. We were all just sitting around, talking about how we don't have enough lisping convicted batters accused of light, fun crimes like sexual battery and kidnapping, and then you showed up, the love child of DARE and the AIDS crisis, to fill that void and needlessly harass the cops as revenge for that time they foiled your weekend rape plans.
Meth: Not even once.
Well, Mr. Morales-Torres, our audit has revealed some major discrepancies between the dedication you purport to have for the First Amendment and civil rights. Mainly because you appear to only respect the freedom of speech up until a dumb ol' woman refuses to make you a sammich or uses her first amendment right to give you a little sass. Then, fuck her civil rights, you're gonna smack her around, falsely imprison her and attempt sexual assault yet somehow fail. Judging from your desperate attempts to look like a tough guy in front of a bunch of cops who are obviously not going to hit you, or even really look in your direction, I think we all know why you failed. Overcompensating much? We've also found a deficit in your transparency and integrity, as you appear to be covering for Bitchtits McJailbird and his class A slampig as they pocket that money and run. Honestly, even if I were Rodney King, I'd feel safer in a room full of New York cops from the 90s alone than I would with you. For that reason, in my capacity as an official representative of Turtleboy Sports, I must politely yet firmly insist that you put down the camera phone, hitchhike back to Florida, and find a trailer to collect your SSDI checks in quietly. You're not wanted nor needed here, and you should remember that Northern girls tend to hit you back more often. You don't fit in here. Leave, and take your rotten clam friend with you.
She'll really like the pain clinics down there.