Hallelujah! *does the cabbage patch*
Holla atcha girl: [email protected]
Back in October, we brought you this disturbing as all get out story out of Hollywood, Florida about a pit bull puppy who was found stabbed nearly to death inside of a suitcase in an abandoned building in the middle of the night.
The vet staff named him Ollie and reported that despite his injuries, he was the sweetest smoosh you could imagine
Unfortunately, a few days after he was found, he succumbed to his injuries. RIP, sweet baby.
The case seemed to lose steam, except… the Detectives assigned to the case decided to pull a quick Benson & Stabler and get DNA off the suitcase Ollie was found in
which led them straight to this whacked out fuckstick of a juicer:
Brendan Evans, 31, of the Fort Lauderdale area
A washed up "personal trainer" who advertised his services on Groupon for pennies on the dollar and 
still
couldn't get anyone to bite
Only better bang for your buck is buying food stamps on the first Friday of the month in Fall River.
He had a social media presence at one point, trying to sell his "brand"
But since he's taken a shining to maiming, dissecting, and torturing harmless animals, he's wiped the web clean of himself
Whoopsies
Apparently, Schizo has quite the checkered (and documented) past:
"While police executed a search warrant in Evans' home, officers found multiple dead animals, including several dead rats with various body parts removed, as well as cat paws. Police noted blood spatter on the apartment's walls, along with blood in the bathroom and what appeared to be fur in the oven.
Police believe religion could have been a motivating factor, noting a report from Fort Lauderdale Police in February where Evans told officers he wanted to kill a duck because he practices voodoo and said it was his religious right. During the search of his apartment, cops also discovered an 8-pointed star drawn on a kitchen wall as well as a shrine with candles, which included pieces of the Crimestoppers flyer about Ollie's death."
So, as usual, Turtleboy got it right – this dude really is Dahmer 2.0 – holy fuck!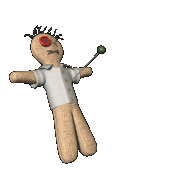 We got some voodoo/santeria shit up in here fam, and I am shook. This dude is 
clearly
not playing with a full deck. He's also been popped for domestic (surprise) and is on probation for bank robbery (lol)
The worst part of all of this? Local rescue groups in Miami were aware of this dude.
He was literally cruising Craigslist classified ads looking for free animals to torture "sacrifice." I know we always hear anecdotes of this crap – "charge a reasonable rehoming fee so your pet doesn't become snake food/end up in a lab/get sent to the moon" but I've never actually seen anyone get collared for it. I am 
floored
fam.
The info was forwarded to the authorities in June, and a mere 4 months later, in October, Ollie happened.
I can't help but think if someone had looked at this nutjob a little more closely that it may have been avoided.
But I think we can all breathe a sigh of relief knowing this batshit loony dude is off the streets. This whole thing is absolutely wild, even by Florida standards.